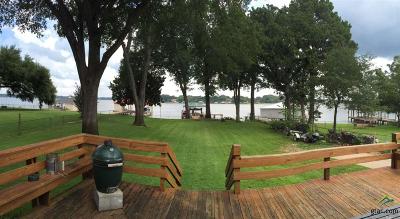 Are you looking for your dream home on the water, but yet want the affordability of a rural community? Flint, Texas boasts some of the more affordable waterfront living options in East Texas. Many people have found the perfect waterfront property to call home by living on the lake in Flint, Texas. Flint allows you to get away from it all but still have quick assess to all of the shopping and amenities of Tyler. With a great location along F.M. 2493 south of Tyler, you can see why many residents choose to relax in Flint and work in Tyler. Flint also offers a great selection of schools in nearby Bullard and South Tyler for families with children.
How do you find a lakefront home in this rapidly growing town where houses can be on the market for 48 hours and have multiple offers? Bookmark the Flint Texas Lakefront Properties for Sale Home Search on this website. Here you will find up to the minute Lakefront Property listings in Flint, mostly Single Family Homes that are right on the water. Be the first to review Lakefront Listings in Flint as many of these home have been put up for sale recently and you can sort by newest listings first if you so choose.
With many lakefront destinations in East Texas you can't go wrong with Flint. Chuck and Anneita want to help you find a lake front property you really love. We are real estate agents that regularly deal with waterfront properties. You want to find a real estate agent who is a true waterfront specialist. Anneita and Chuck are the go to agents for Lakefront Properties for Sale in Flint, Texas. They have detailed knowledge of waterfront properties in your area. Contact them today.